Baby Einstein: Baby Noah – Animal Expedition
Theatrical Release:
April 11, 2005
DVD Release:
April 11, 2005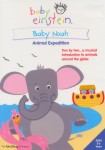 Synopsis
"Baby Noah: Animal Expedition" takes babies and toddles on a playful voyage across the globe. Little ones will meet animals, two by two, from the rain forest and tropics, the outback, the polar region and more! This 'round-the-world journey features delightful puppet shows and real images of wild animals, children and toys set to the beautiful music of Beethoven, Bizet and Mozart.
Dove Review
As with all "Baby Einstein" videos, "Baby Noah: Animal Expedition" takes your little ones on a learning adventure. This one explores animals in different settings around the world. The children will enjoy watching the different animals, children, toys, and puppets as they learn. The learning process never stops in this video as your children will also listen to classic music from Mozart, Beethoven and Bizet. Take my word for it, you will enjoy this as much as your youngsters do.