Playing Soccer is fun with Jimmy Sport
Theatrical Release:
April 11, 2005
DVD Release:
April 11, 2005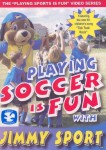 Synopsis
Jimmy Sport's video series entitled "Playing Sports is Fun" provides kids ages 2 to 8 an exciting and motivating look at exercise by going outside and playing sports. Jimmy Sport utilizes music and fun to introduce the first skills of sports such as soccer in this video. In addition, children are shown the concepts of teamwork and good sportsmanship while receiving continuous positive reinforcement from their peers and coach. Kids will love to watch Jimmy Sport as he teaches them that soccer is fun.
Dove Review
Jimmy Sport teaches children from 2 to 8 years old all about playing soccer. Jimmy is a great big lovable dog that can teach you all about sports. In this video Jimmy tells all about soccer including rules, equipment, safety tips, and how to play the game. Plus the music is great. All will enjoy watching Jimmy Sport.