Loves Enduring Promise
Theatrical Release:
April 26, 2005
DVD Release:
April 25, 2005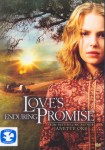 Synopsis
Based on Janette Oke's best-selling novel, this poignant sequel to "Love Comes Softly" will draw you in from beginning to end. Missie Davis is devoted equally to teaching school and doing her fair share on the farm. When a handsome railroad heir starts to woo her, Missie is nearly swept off her feet. That is, until a mysterious stranger with a troubled past shows up. Torn between two very different men, Missie learns what is truly important in this inspiring film that the whole family will enjoy.
Dove Review
The movie starts out with a couple lying on the grass kissing and telling each other how much they love each other. Their house is on a huge plot of farm land. The two are married and they have three kids including an eleven year old boy, a nine year old boy, and a teenage daughter, Missie. Set in prairie times, Missie is the teacher and the two boys go to school. Missie goes to lunch picking berries when a strange man from a nearby railroad survey site rides up to her and tries to get her to dine with him. Missie's father and his son are out chopping wood and the little boy runs off to go potty. The boy is startled and screams. When he does it throws his father off and he chops into his own leg with an axe.
Pa almost bleeds to death, but a stranger on a horse comes by just in time and brings Pa and the boy back to his house. Since medical treatment was poor back then, Pa is to be bed ridden and Ma has to watch for infection. Now Missie must teach school and do all of her father's work on the farm. She's busy and tired all the time and she misses her date with the wealthy surveyor named Grant. They find out that the stranger that saved Pa's life was really Nate, the lost son of Pa's old friend. Nate comes to the farm and starts helping out. He saves Pa from dying by cutting out the infection and starts to fall for Missie. But Missie is still interested in Grant until he tries to put the moves on her. Nate was about to leave, but Missie told him to stay because she wasn't with Grant anymore. In the end everything comes together for everyone.
Content Description
Sex:
The first scene there is a married couple kissing in the grass. Nothing graphic and nothing shown.
Info
Company:
20th Century Fox Home Ent.