Baby Songs: Good Night
Theatrical Release:
April 26, 2005
DVD Release:
April 26, 2005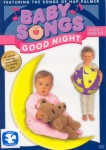 Synopsis
"Baby Songs" is a tried and true kid-vid classic. These sweet, gentle tunes create a loving environment in which children can sing together, play quietly or peacefully drift off to sleep. The creators of "Baby Songs" bring you new lullabies by the Parents' Choice award-winner Hap Palmer. You and your children will be fascinated by this mixture of sounds, rhythms, animation and live-action toddler shots which provide a peaceful transition between play time and quiet time. Palmer is a singer/songwriter whose work belongs on everyone's shelves.
Dove Review
"Baby Songs" is a winner! The winner of the following: Parents' Choice Gold Medal, TV Guide Best Kids Videos, and the National Parenting Publications Award. "Baby Songs: Good Night" has eleven amazing and soothing songs: Baby Songs Theme, Old Rocking Chair, All Night All Day, A New World to Explore, Spinning on the Same Ball, I Sleep 'Till Morning, Counting Miracles, Sleep My Baby, Lovey and Me, Sleep On, and Teddy Bear Ball. Sometimes it's hard to take a baby from playing and make them lie down and take a nap. But with "Baby Songs: Good Night," all you have to do is put in the video and watch as your baby drifts off to the restful sounds and images.