Garfield as Himself
Theatrical Release:
April 26, 2005
DVD Release:
April 26, 2005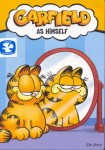 Synopsis
Three hilarious TV specials on DVD for the first time! In "Here Comes Garfield," poor, sweet Odie is sent to the pound after he and Garfield are caught trying to annoy a nasty neighbor, and it's up to the fat cat to free the dim-witted pup. In "Garfield on the Town," Garfield escapes on a trip to the vet, has a run in with some alley cats and meets his long lost mother. Finally, "Garfield Gets a Life" finds Garfield, Jon and Odie spicing up their lives with makeovers, dating services and disco dancing.
Dove Review
All of the beloved classic "Garfield" episodes that were on TV are now brought to you in remastered digital DVD quality. In "Here Comes Garfield," the viewer sees past the Garfield who is always mean to Odie and who is always kicking him off the table and teasing him. When the two are playing outside and the dog catcher comes around and scoops up Odie, Garfield does whatever it takes to bring his life-long pal back home.
In "Garfield on the Town," Jon struggles to get Garfield in the car for his recurring trips to the vet's office. Garfield is messing around in the car and suddenly finds himself out in the street nearly being run over by cars. He walks around cold, lonely and, of course, hungry, until he is chased into a seemingly abandoned house by some mean alley cats. It turns out, though, that the building was an old Italian restaurant and Garfield's old home.
Finally, in "Garfield Gets a Life," the three are bored so they all start thinking of ways to "Get a real life." Jon consults a dating book and strikes out time and time again while Garfield and Odie sit and keep entertained watching Jon fall all over himself.
Info
Company:
20th Century Fox Home Ent.