Lets Sing with ToonBo
Theatrical Release:
April 27, 2005
DVD Release:
April 27, 2005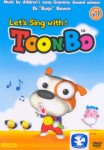 Synopsis
An animated cartoon sing-along with a dog named ToonBo. Fun to learn songs with sing-along words make this a great learning DVD for preschool kids and up. Made up of ten entertaining and educational songs.
Song One: Clap Hands, a game where you clap and dance around and make silly sounds.
Song Two: A-B-C-D, just the alphabet set to music.
Song Three: Counting Song, counting repeatedly to the number eleven.
Song Four: Eensie Wensie Spider, the classic nursery rhyme set to music and fun toon animation.
Song Five: Alphabet Song, ToonBo helps your child sing the A B C's.
Song Six: Seven Days of the Week, Monday through Sunday, one through seven.
Song Seven: Do You Know the Number, asking the kids if they know their address to song.
Song Eight: Bingo, the classic bingo song.
Song Nine: Number Song, counting to twenty.
Song Ten: Clementine, the chorus to the classic song Clementine.
Dove Review
The animation in this movie is spectacular. I think that it is the most fun-to-watch kids sing-a-long movie that I have ever seen. The educational songs are the type that younger kids enjoy to watch while learning their ABC's and numbers. It is very entertaining. The songs, along with all the movement and color from the animation, will keep any child entertained and educated at the same time. I recommend "Let's Sing with ToonBo" to every child.