BabyPro: Lets Make a Splash!
Theatrical Release:
April 28, 2005
DVD Release:
April 28, 2005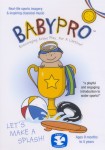 Synopsis
"Let's Make a Splash!" provides a charming and playful introduction to swimming, diving, and surfing. Captivating images of little mouths blowing bubbles, babies splashing and children riding waves are synchronized with lively compositions from composers such as Handel, Hayden, Bach and Sousa. Babies are exposed to language progression through the repetition of action words and phrases such as "Pull with your arms," "Splash with your hands," and "Kick with your feet."
BabyPro videos promote the value of physical activity and are designed to provide a foundation for your child's happy and healthy life. Selecting "Let's Make as Splash!" will encourage your child to swim, dive, kick, paddle, surf and splash… for a lifetime!
Dove Review
"Let's Make a Splash!" gives your little ones a lot of interesting things to watch, listen to, and learn from. This film exposes little ears to music from great composers. It also gives them a lot of great activities to watch, like swimming, diving, and surfing. The learning process is facilitated by the repetition of words to increase the vocabularies of little ones. It also teaches them action words associated with the activities shown.