Vanished
Theatrical Release:
May 16, 2005
DVD Release:
May 16, 2005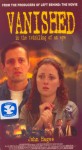 Synopsis
Without warning, millions of people instantly vanish from the face of the earth! In the following hours civilization is torn apart as anarchy and chaos reign supreme. It's a time of great tribulation for those left behind.
In this stunning prophetic docu-drama Pastor John Hagee whisks you into the near future, into a world spinning wildly out of control. The terror of a global war is matched only with the personal tragedies and loss of those left behind. It is through these stories that "Vanished" powerfully illuminates the stunning prophecies of God's word. But "Vanished" is much more than a dramatic portrayal of what is to come. As the prophetic events unfold – the rapture, the rise of the Antichrist, the deception, the persecution of new believers – Pastor Hagee is right there to explain exactly what the Word of God teaches about them.
Dove Review
This movie has another really interesting take on the last days as prophesied in the last book of the Bible—Revelation. John Hagee is a Pastor with a mission. He tries to capture the chaos and panic of the last days while still maintaining the truth and validity of the message. He also wants this movie to be a message and learning tool for those who do not know Jesus and for those who are left behind after Jesus comes. It's like a feature film in the fact that it's a story, but it's more like a documentary because Pastor John Hagee is the one guiding you through this glimpse of the last days. It's a very straightforward account of the end times.
Info
Company:
Cloud Ten Pictures