Judgment
Theatrical Release:
May 16, 2005
DVD Release:
May 16, 2005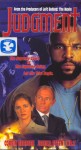 Synopsis
Good versus evil – it's a colossal battle as old as eternity itself. But this time it's going to court.
Mitch Kendrick (Corbin Bernsen) is a respected lawyer troubled by his lost faith and haunted by the memory of his deceased father. To make matters worse, he is visited by his ex-lover and O.N.E. (One Nation Earth) Prosecutor Victoria Thorne (Jessica Steen), who makes him an offer he can't refuse. He's ordered to defend the Christian resister Helen Hannah (Leigh Lewis), who has been indicted on charges of hatred against humanity, or face the wrath of Franco Macalousso (Nick Mancuso), Supreme Leader of O.N.E.
A reluctant Kendrick accepts the case only to find that the entire proceeding has been rigged and his client will be found guilty regardless of his defense. Outraged at Victoria for her deception and frustrated by Helen's unwillingness to denounce her beliefs, he decides that the only way to uncover the real truth is to put God himself on trial! Kendrick proposes this to Macalousso, who likes the idea of putting his eternal nemesis on trial for all the world to see. God himself is on trial for crimes against humanity… it's simply too good to be true. He allows Mitch to proceed even though Vicky is against the idea.
Meanwhile, J.T. Quincy (Mr. T) rages against the unjust trial of Helen Hannah. A man of action and tried of the passive resistance of his fellow Christians, he's determined to strike a blow against the evil of Macalousso. Quincy plots a daring escape plan to break Helen out that is fraught with danger and enlists the help of some not-so-faithful friends. But as Kendrick slowly unveils the truth throughout the trial, he not only experiences a personal epiphany but is also made aware of the deceitful lies and evil machinations that Macalousso uses to control the world. Suspense mounts as these perilous events close in on themselves and the world waits breathlessly for the supreme court's final judgment.
Dove Review
The courtroom setting of "Judgment" is a great change from the action-adventure of earlier titles in the series. In addition to the "God-on-trial" plot, the film keeps you on the edge of your seat from start to finish. All of the actors deliver a great performance. Non-Christians will not find "Judgment" to be a sermon but a great story of villain vs. hero set in a courtroom. Every part of this movie is great and it will drag you in. Even if you don't believe in God and biblical prophecy you will still think that "Judgment" is a great movie.
Info
Company:
Cloud Ten Pictures
Director:
Andre Van Heerden