Bugtime Adventures: Youre All Wet
Theatrical Release:
May 1, 2005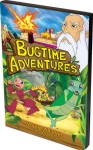 Synopsis
Elijah is ordered by God to approach King Arab and renounce the King's false god Baal during the 3 year drought. Elijah tells the king that Israel's problems have been caused because they have forsaken God's Commandments and chosen to follow Baal. He challenges the prophets of Baal to a contest to prove there is only one God.
Bugsville is also suffering from the drought. Most of the bugs are weary of collecting what little water they can and storing it in the town's communal water tank. It is also the time of year when Mayor Green's term of office is up. Everyone agrees that it is just a formality to ask any bug to run against Major Green, so everyone is stunned when Roderick announces that he wants to run.
Dove Review
As always with "Bugtime Adventures," the two stories, the Bible story and the bug story, intertwine. As Elijah challenges the prophets of the false god Baal to determine which god the people should follow, the bugs have to decide if Roderick will be their new major.
Watching "Bugtime Adventures" with your children will help them learn the Bible story of Elijah and how this story can apply to everyday life. I think these adventures are just fantastic for all who watch them.