The 10 Commandments
Theatrical Release:
June 1, 2005
DVD Release:
June 1, 2005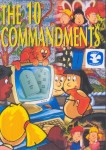 Synopsis
This marvelous animation introduces The Ten Commandments in stories that children of today can relate to and understand in their own way. Its central characters are youngsters dealing with the common situation of a child's modern daily life — at home, in school, or playing with friends.
The family is of central importance in this DVD, because it is within the family circle that children grow and learn best. Quite often children find themselves in situations in which they are challenged to make the right choices, and those right choices must be guided by the Ten Commandments of God. Each Commandment is taught in the form of an easy-to-understand story, and each "Commandment Story" is a separate chapter on the DVD. Every chapter begins with a cheerful Monk-teacher, who introduces the story with a friendly reminder that Jesus gave us the single greatest Commandment of them all — "Love one another as I have loved you."
Dove Review
If you are teaching your children about how the Ten Commandments relate to today this is the DVD for you. Each commandment has its own chapter so you can select the Commandments in order or in an order you want to teach your children. You can stop after each one and have a discussion or watch it all at once. The friendly Monk-teacher will repeat the friendly reminder Jesus gave us, "Love one another as I have loved you" before each chapter begins.