Magical Music Express: Episode 1 and 2
Theatrical Release:
November 25, 2005
DVD Release:
November 25, 2005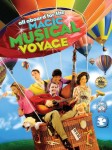 Synopsis
"Magical Music Express" is a half hour episode series that introduces children to the world of music through innovative songs and creative visual instruction. Each episode includes a colorful cast of characters and is hosted by Mr. Stephens and his good friend Keys the dog. The series is designed to teach children the basic concepts and elements of the musical language.
The content of "Magical Music Express" has been designed to supplement the educational curriculum of ages 5 through 12 as well as serve as a compliment to any child taking private music instruction. It is also designed as a parent friendly series to encourage parents and children to view and enjoy the program together, creating a truly family friendly production.
Dove Review
This is the series to get for your children to get them interested in music. The music is fantastic and your young ones will learn everything about music. These two episodes "What is Music?" and "The Language of Music" teach some things regarding soft music, loud music, fast music, slow music, notes, clefs, and many other things relating to the music world. These are the first of many more episodes, and I think this will be a great series for everyone to have and learn from.
Info
Company:
Ives Street Entertainment