Kidzebo Presents Fairy Tales
Theatrical Release:
July 11, 2005
DVD Release:
July 11, 2005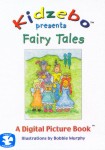 Synopsis
The Digital Picture Book is an innovative, interactive DVD. Each of the stories is told in three modes. Additional educational features that can help children to read can be clicked on or off with a remote control. In the "Reading Room Mode" a storyteller reads the story to a room of children. In the "Read Together" mode, the stories are animated. A color-coded text works with the audio to help children identify words with their corresponding sounds. In "Picture Book" mode, the stories are presented in a more traditional words-on picture manner. Using a remote control, children can flip the page or click a button for the page to be read.
Fairy Tales stories are The Princess and the Pea, Tom Thumb, and Goldilocks and the Three Bears.
Dove Review
These fairy tales are so enjoyable. I remember as a child telling my grandparents the story of Goldilocks and the Three Bears. All three of these stories will be loved by your children. Not only can they listen to the stories being read to them by a story lady, but can choose to follow along with the highlighted words if they wish, or just watch the story as the pages are turned and follow along. I love these digital picture books. I think they would be a great help when teaching your children to read.
Info
Industry Rating:
Not Rated