Get Fit with Sqedunk
Theatrical Release:
August 1, 2005
DVD Release:
October 1, 2005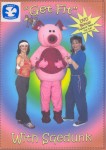 Synopsis
Children of all ages will love this exercise video! Join Sqedunk, Athletic Anna, Miss Lori and their exercise buddies in learning 14 basic exercises. Athletic Anna will lead each exercise with an instruction on the proper way to do that exercise. Sqedunk and the rest of the group join Athletic Anna in sets of each one of the exercises. After the 14 exercises are done, the home audience will get a bonus of the silly exercise routine Athletic Anna performs in the Traveling "Miss Lori Live" Show. The routine gets faster as all try to keep up with Miss Lori singing the song John Jacob Jingle Hiemer Schmidt. Rhymes, silliness, music, and a lot of energy make for a fun time while teaching children the basics in exercise and staying fit. Children today need extra encouragement in learning the life-long habit of staying healthy and fit, and this video provides just that.
Dove Review
Here is a video that is educational and will help your children to be active and healthy. As I watched this I wanted to get up and exercise with Sqedunk, Miss Lori and Athletic Anna. I believe that you and your children will love to do these simple exercises. Get your children on the right road to a healthy lifestyle by teaching them to exercise. This show is fun for all to enjoy.
Info
Company:
Sqedunk Children Productions
Industry Rating:
Not Rated