International Baby: Lets Sing Together
Theatrical Release:
August 8, 2005
DVD Release:
August 8, 2005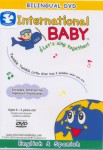 Synopsis
Children naturally learn words and phrases more quickly when they are accompanied by musical rhythm. International Baby harnesses the power of music and provides your child with the tools to learn more that one language at an early age. Together, let's start your baby's future today.
Dove Review
This video is a wonderful teaching tool for teachers and /or parents to use for their learning babies. It is true that as babies start to learn, language is important. Here is a video that will help your child learn new words and also another language. You can teach your child to be bilingual at a young age as he/she is learning new words. There is an added feature of interactive flashcards for both alphabet and vocabulary in both English and Spanish.