Read-TV Volume 1: Do What You Love
Theatrical Release:
August 9, 2005
DVD Release:
August 9, 2005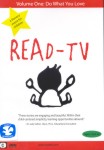 Synopsis
"Read-TV" brings together captivating images with animated words that walk, bounce and play. Meaning is further enhanced through innovative captioning, repetition and eye catching design. Reading clues are everywhere! "Now it's Your Turn!" is a Read-TV interactive feature that encourages children to re-tell each story and practice their new vocabulary. "Read-TV" builds literacy and effectively communicates the empowering message "do what you love."
Dove Review
There are six stories told in this DVD. Each Story is told to your child in a storybook fashion with live action pictures and word captions highlighted as they are spoken by the narrator. Then, after each story is told to them by the narrator, it is re-told again; but this time, they are the narrator as they read the words to you. This is a great concept to help teach children to read.
Info
Industry Rating:
Not Rated