The Princess Stallion
Theatrical Release:
September 7, 2005
DVD Release:
September 7, 2005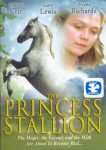 Synopsis
Following the death of her mother, Sarah (Ariana Richards), a California teenager, is sent to live with her estranged father, Ian Steward. While riding her horse through the high mountains, Sarah meets an old hermit named Fergus (Andrew Keir) who protects the mountain animals from "takers" or poachers. Sarah returns to visit Fergus the following day and comes across a beautiful white stallion. Sarah is amazed by its beauty, but is the stallion real or imaginary? Sarah realizes the stallion is real when two local poachers plot to capture the stallion. Seeing Sarah's natural flair with the horse, they launch a plan to kidnap Sarah and use her as bait. Will Fergus save Sarah and the stallion from the evil poachers, or will the stallion save them all?
Dove Review
Not only is it hard for a young girl to loose her mother, but to have to move to a new country (Scotland) and live with a father she barely knows adds additional stress to Sarah's life. The scenery in this movie is fantastic as are the endearing characters.
Sometimes when so many changes go on in our lives we don't always have the patience and understanding to deal all of the things happening around us. Sarah's new friendship with Fergus helps her to learn about this new country she is in. Although things are hard for Sarah and her father, Fergus and the stallion bring them close and give them a better understanding of each other. You will love this heartwarming story.
Info
Company:
UAV Entertainment
Industry Rating:
Not Rated