The C.S. Lewis: The Lion Witch and the Wardrobe
Theatrical Release:
April 1, 1979
DVD Release:
November 21, 2005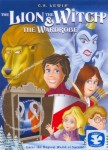 Synopsis
This Emmy award winner for Best Animated Special is based on the first tale of C.S. Lewis' acclaimed children's books, "The Chronicles of Narnia." When four children pass through a special wardrobe closet, they discover the kingdom of Narnia, a land of talking animals and mythical creatures. But an evil witch's spell has cast Narnia into eternal winter. Fearing that an ancient prophecy has come true, and that the children are Narnia's chosen rulers, the witch tricks their youngest brother into betraying his family. Now, only Aslan, noble lion and King of the Woods, can help the children defeat the witch, restore springtime to Narnia, and claim their rightful places on the throne.
Dove Review
This illustration of C.S. Lewis' story will be entertaining for the family. There are some parts that may frighten younger children, but then "The Wizard of Oz" has scary parts also. There are so many ways that one could make a comparison between this story and the ones in the Bible relating to Jesus. Also added to this DVD you will find some background on C.S. Lewis and the reasons he wrote "The Chronicles of Narnia." If you have not read his books you might want to do that as well, as they are truly amazing stories. That aside, this is a great adventure that the whole family will enjoy.
Info
Company:
UAV Entertainment
Writer:
David D. Connell C.S. Lewis - Book Bill Melendez
Producer:
David D. Connell ... executive producer Steven Cuitlahuac Melendez ... producer
Starring:
Simon Adams - Edmund (voice), Don Parker - Mr. Beaver (voice), Beth Porter - Witch (voice), Liz Proud - Mrs. Beaver (voice), Susan Sokol - Susan (voice), Victor Spinetti - Mr. Tumnus (voice), Stephen Thorne - Aslan (voice), Dick Vosburgh - Professor (voice), Rachel Warren - Lucy (voice), Reg Williams - Peter (voice)