Care Bears: Daydreams
Theatrical Release:
September 12, 2005
DVD Release:
September 12, 2005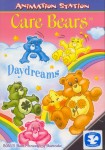 Synopsis
What better way to spend a lazy afternoon than daydreaming about your favorite furry heroes? Now you can make a voyage to the wonderful world of Care-a-Lot and spend your day wtih Funshine, Share, Love-a-Lot, Tenderheart and all the other Care Bears. This charming collection of Care Bear adventures includes the recently found episodes, "Daydreams" and "Runaway" that were believed to be lost forever.
Daydreams – The Care Bears take Melanie to the Forest of Feelings after her constant daydreaming gets her into trouble.
Runaway – Cara runs away and joins the carnival run by Professor Coldheart.
The Show Must Go On – Patti becomes heartbroken when her father is absent from her ballet performance and decides to run away.
Old Man and the Lighthouse – Three kids must learn a valuable lesson about caring after they get caught up in a storm.
Dove Review
The Care Bears are always cute and teach your children about important issues that they might have to deal with. This DVD deals with many issues that sometimes bother children, like how daydreaming sometimes causes them trouble; that running away from your problems doesn't make things better and creates bigger problems; and how caring about others around you is important. Your children will enjoy these stories and learn great life-long lessons.