Christmas at Maxwells
Theatrical Release:
September 12, 2005
DVD Release:
November 1, 2006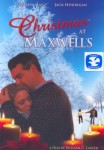 Synopsis
This Christmas will change the Austin family forever. With a successful career in the wine business, two amazing children and having married his high school sweetheart Suzie Maxwell, Andrew Austin has everything. But life and a past secret quickly bring change and in an instant, life no longer has the order and gentleness it once held.
Suzie falls ill and both Andrew and the children quietly search for answers. Facing a hectic holiday season, Andrew and family retreat to their summer home on Lake Erie to celebrate possibly their last Christmas. Away from the demands of the city, their world opens up to a moment in time they will never experience again. As their small lakeside community brings them its own wonderments, hearts open in unseen ways.
Dove Review
I had a hard time, at first, watching this movie because I could not follow where it was going. It seemed like everyone was moving in a different direction. But finally, as I realized that it was a story about the feelings and emotions the family was struggling with due to Suzie's illness and the uncertainty of her outcome, it became easier to understand. This film shows how we sometimes lose direction when our faith is weakened by a situation we can't control.
When we think of the Christmas season we tend to think less of the miracles than the holiday. Having this story about a miracle during the holiday makes it a special season.
Info
Company:
Willowcreek Marketing