AutoBGood: Where the Rubber Meets the Road
Theatrical Release:
September 15, 2005
DVD Release:
October 1, 2005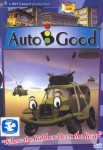 Synopsis
Welcome to the City of Auto – A wonderful world of cars. Meet Johnny, EJ, Issi and the rest of the cars in this high-octane adventures along the road of life. Each collection features six award-winning short stories. AutoBGood is Premium Grade Values and Full Throttle Fun! Hop in and enjoy the ride.
"A Mile in their Tires" (Tolerance): Johnny and Miles are friends, as are Cali and Maria, but their differences are starting to cause problems. Will they still be friends after driving a mile on each other's roads?
"Stage Fright" (Consideration): Issi is excited! She has planned a show for all her friends, and they've all agreed to come… as long as the others go. It doesn't hurt anything to miss it – or does it?
"Izzland and the Giant" (Uniqueness): There's a new vehicle in town, and he's different. He's gigantic and must be up to no good – or so Johnny and Cali think. Can the difference be enough to save them from enormous danger?
"Rumors of War" (Patriotism): The future home of the Super Mall prompts EJ and a few friends to make a last stand. But are there other ways to defend the land they love and save their precious soccer field?
"The Price of Freedom" (Citizenship): After piquing the curiosity of the younger cars, Franklin finally begins to share the story of his friend CJ Willey and the Big War…and what it means to be a citizen.
"No Greater Love" (Loyalty): Franklin continues to tell the heroic saga of CJ Willey's bravery and the sacrifice he made to save his soldiers.
Dove Review
Each of the "AutoBGood" series is a great tool for kids to learn about different topics. I believe that kids will love to watch these incredible stories. In these episodes they can learn about subjects like consideration, patriotism, and citizenship to name a few. I think your kids will relate to the lessons, and will learn some information about the topics and some ways to handle certain situation that happen in their lives. Watch this DVD all at once with you kids or watch one story at a time then hold a discussion and see what they have learned.
Info
Company:
Rising Star Studios
Industry Rating:
Not Rated