AutoBGood: Hitting the Road
Theatrical Release:
September 15, 2005
DVD Release:
December 1, 2005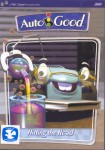 Synopsis
The AutoBGood gang is ready for another journey on the road of life. After filling up with knowledge of the Bible, Issi and her friends are ready to hit the road with another journey filled with humor and adventure! Buckle up and enjoy the fun! An hour of life changing values and full throttle fun!
"Timely Treats" (Punctuality): It's Issi birthday! To celebrate, everyone is going to see her favorite movie… but will Johnny's dawdling causes Issi to miss her own celebration?
"Picture Perfect" (Promptness): Everyone loves a parade! It takes a lot of planning, preparation and a photograph of the group… but the perfect mud puddle just might mess up their plans.
"Moving Forward Together" (Readiness): It's the day of the big parade! The group's hard work and effort comes down to this…but is Derek prepared, or will he let the air out of everyone's balloon?
"Growing Responsible" (Responsibility): Cali just loves shopping! She needs a job so she can shop more and comes up with a plan to "let" her friends be responsible for her task instead.
"Red Card to Respect" (Respectfulness): EJ is tied for the soccer league's lead in goals – with only one more needed to pull ahead! Will his 'trash talking" put his goals at risk?
"The Land of Odds" (Dependable): Johnny thinks being dependable means being "boring;" however; when the Professor's invention takes Johnny to the Land of Odds, his opinion quickly changes.
Dove Review
If you need to talk to your children about any of the topics covered in this DVD, watching this together is the way to go. "AutoBGood" demonstrates, with these little cars, the stories surrounding each subject. The cars have personalities that your kids can relate to. As kids grow up, sometimes there are things they don't understand fully like the importance of responsibility or dependability. These are just 2 of the subjects talked about in this set of episodes of "AutoBGood." Get the whole family together to enjoy this show, and then maybe have a discussion by using the operator's manual (included with this DVD), which uses a Bible verse associated with each topic.
Info
Company:
Rising Star Studios