Ewe Know: Are Ewe Afraid?
Theatrical Release:
September 15, 2005
DVD Release:
December 1, 2005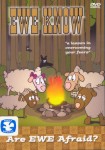 Synopsis
For fun and musical adventure, "Ewe Know" who to call! "Ewe Know" is a delightful animation adventure of a woolly flock of sheep under the tender and wise care of the Great Shepherd. The Sheep – Nails, Spunky, Trudy, Bubba, Bernie and 95 others – live on the plush 6 1/2 acres of green pastures in the Iowa Panhandle. Each episode helps them learn about their special relationship with their Shepherd. The wolves – Roger, Francine, Skizzy and Radcliff – are always thinking up "super genius" new ways to have "sheep tonight."
In this episode, our woolly friends take to the great outdoors for an overnight in the woods. While gathered around the campfire, one of them tells a scary story about the Legend of Big George. What happens to our sheepish adventurers when they explore the Howling Cave alone in the dark – will they remain happy campers? Will the wolves, on their own night maneuvers, prove to be a success? Will the Shepherd show our sheep the way out of danger? Sometimes our fears seem scarier in the dark, but the light of day reveals that not all stories told by a friend are true.
Dove Review
This is a cute little animated story that talks about being frightened of the dark. This will entertain the whole family. The sheep have adorable characters that you will fall in love with, and the wolves' characters will be memorable and you won't forget them. This is one of those movies that you will want to sit down and watch with your youngsters.
Info
Company:
Rising Star Studios