Mr. Toy
DVD Release:
December 1, 2006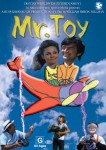 Synopsis
Mr. Toy creates toys and gives them to the local orphanage. Unfortunately some of these "creations" do more than they were designed to do. Hysterical neighbors and law enforcement can't control him, and even the spy from a big city toy manufacturer gets caught up in a web of ultrasonic, over-the-top harebrained adventure. Along the way he tries to save his farm and the orphanage from foreclosure, marry his sweetheart of 12 years, and adopt an orphan he's fallen in love with. "Mr. Toy" is a heartwarming story of generosity, love, and life's most important attribute – the importance of family.
Dove Review
It's rare these days to find such a gem of a movie! "Mr. Toy" delivers almost 90 minutes of pure joy to the viewer. I grew up on films that were pure and simple and this movie brought me back to those wonderful years.
Your entire family will enjoy watching all the zany antics of these great characters. "Mr. Toy" is safe, clean and fun entertainment your kids will watch over and over again. Dove highly recommends this movie!
Info
Company:
Destiny Entertainment