The Conscientious Objector
Theatrical Release:
March 1, 2004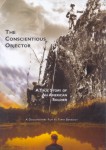 Synopsis
The true story of a humble and deeply spiritual young soldier who overcame the stigma and ridicule of being a conscientious objector at a time when non-combatants were labeled as cowards. Who through faith and determination met every challenge placed in his way to earn the admiration of the Army and a Nation in being awarded America's highest military distinction…"The Congressional Medal of Honor." The story of Pvt. 1st Class Desmond T. Doss. This documentary explores the nature of Desmond's heroism and searched out survivors of the 77th Infantry Division who were witness to Desmond's actions as well as those rescued by him. With cinematic approach that captures powerful and inspiring interviews with Desmond Doss, his family, and the few remaining Veterans, their stories reveal the many sacrifices that Desmond made. For the first time in 56 years, they reunite with their medic on the Meade Escarpment, on the island of Okinawa, where this amazing story took place.
Dove Review
This documentary was very enlightening and educational. As always, stories about war are intense and graphic. Coming from a military oriented family, I understand many of the military rules and ways of thinking. Desmond's story captivated me; how one man with his faith and conviction brought so many though the conflict of war without ever picking up a weapon. He earned the respect of others the Honor awarded to him.
Even though Dove could not give the "family-approved" seal to this film, there are many redeeming qualities in this documentary, as there were in "Saving Private Ryan." This film contains certain content that is too explicit for the film to be considered "Family Entertainment."
Info
Industry Rating:
Not Rated
Starring:
Max Cleland as Himself and Veterans of WWII