The Adventures of Ragtime
Theatrical Release:
September 28, 2005
DVD Release:
September 28, 2005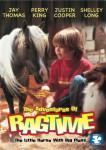 Synopsis
Meet Ragtime, a miniature horse with an extra special talent and loyal pet to young boy Berkley Blue. When petty crooks Sam and Lester catch a glimpse of the incredible miniature horse, they hatch a hair-brained scheme to strike it rich.
Though the idea of holding the cute little rascal for ransom seems simple enough, the thieves soon discover that stealing a national superstar is easier said than done.
Join Ragtime and friends in this heartwarming tale of love and survival, as our hero puts on his greatest ever performance, with hilarious consequences!
Dove Review
This is the story of the little horse that could! Ragtime is a fun-filled adventure about a boy and his amazing horse. Your family will laugh out loud when Ragtime takes on his would-be horse-nappers.
Both well acted and directed, this is a film that you will watch over and over again. The zany antics of Sam and Lester are trumped only by "Rags," who leads them on a wild horse chase in a luxury home that our thieves have broken into in hopes of hiding the horse until they can collect on the ransom.
This one is a real winner and Dove is proud to award "Ragtime" 4 out of 5 Doves!
Info
Company:
UAV Entertainment
Industry Rating:
Not Rated