The Public Life of Sissy Pike: Episode 1
Theatrical Release:
September 4, 2005
DVD Release:
September 4, 2005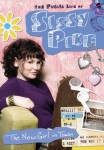 Synopsis
The daughter of a retired Navy chaplain, Sissy Pike sees her life become a whirlwind of change when her father takes a new job as Pastor of a Midwest church. Sissy has style in everything that she does. She also has a strong desire to be true to herself and to her faith. Suffering a bit from culture shock and homesickness, Sissy finds herself in a tangle at her new school, when the school "princess" begins to ridicule and condemn Sissy's sunny, funky California style. In the end, Sissy must come to grips with small town ways and small church politics, learning that moderation and kindness can make even the worst situations tolerable.
Making this a true family affair, Aames' daughter Harleigh Upton is cast in the lead role of Sissy Pike. Supporting Sissy through the trials and tribulations of fitting in and making friends at her new school are Sissy's parents, who are played by Upton's real-life mother and father, Maylo Upton and Willie Aames
Dove Review
Girls of all ages will fall in love with Sissy Pike. This is an uplifting story for young girls. It deals with the problem of being the new kid in town and how others treat you when you are different. Sissy will make you laugh as she tries to politely deal with different situations. The whole time Sissy never looses faith that the right things will happen.
Info
Company:
Outpost Entertainment
Industry Rating:
Not Rated