The Alphabet Stories
Theatrical Release:
October 4, 2005
DVD Release:
October 4, 2005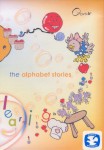 Synopsis
The alphabet will never be the same again, after your child watches this creative collection of four little stories, each corresponding to a section of the alphabet. Be it the birthday party that's filled with thrills and surprises for a goat that lives in a castle, or the considerate lion king who decides to get his animals an ice cream fountain, each story is a treat with fun and fancy for your child's mind. Oh, and don't forget the pigs that are having a great time in town, and the whale that can tell many stories.
In addition to the alphabet and story reading , there is a section where the stories are animated. It is a perfect opportunity for you and your child to develop you own version of the stories. The QandA between a mother and her children in the DVD is just one example of how your child's imagination can take you on a joyful ride.
Dove Review
Here is a great educational tool to teach your children about the alphabet. This colorful DVD shows your toddler the alphabet and then tells them a story using the letters previously taught to them. The stories are fun, colorful and amusing for everyone. Your children will have fun while learning as they watch this show.