Family: Memory Lane
Theatrical Release:
October 6, 2005
DVD Release:
October 6, 2005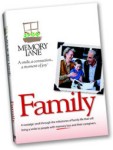 Synopsis
At last, a video designed for the millions of Americans living with memory loss – and their caregivers. Family, the first video in the Memory Lane series, is a touching look at the milestones of family life, including dating, weddings, babies, child's play, bicycles, ballerinas, baseball, birthdays, family vacations, teens, graduations and more. Appearances by nine different seniors who recount brief, personal stories help establish a connection with the viewer as they're gently guided through the 30-minute program. Captivating music video segments combine familiar images together with nostalgic songs intended to evoke pleasant memories and emotions.
Dove Review
My mother has Pick's Disease, which is like Alzheimer's in that the symptoms that person displays are very similar. "Family: Memory Lane" is a wonderful tool for families of, patients that have and care-givers who treat those with memory loss. It contains the catalyst for remembering for the patient, and is a starting point for family to engage the loved one in trying to remember all those wonderful things that happened in their life.
I would recommend this DVD for any family that has a loved one suffering from Alzheimer's, Pick's or any kind of dementia. But, start early. Don't let the patient get too far advanced in their disease because then it might be too late. That was the case when my father and I watched "Family: Memory Lane" with my mother. We felt we were about 4 or 5 years too late. For my mother, it was too late, but for my Dad, I think it helps to remember all the wonderful years they have spent together. I left the DVD with him in the hopes that he will view it from time to time and continue to try to engage my mother, not as much for her at this time, but for him. I hope he is uplifted and encouraged by the memories they so lovingly shared in their 58 years of marriage.