Tinyguides: Its Time to Eat
Theatrical Release:
October 10, 2005
DVD Release:
October 10, 2005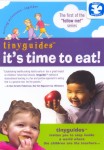 Synopsis
Eating is one of the very first milestones a child experiences. From the moment your child is born, the milestone of eating begins and plays a critical role in their health and development."It's time to eat" was created to help children establish a positive attitude about food. Our goal is to expose our viewers to a variety of child-friendly foods and make eating a playground, not a battle field. Children can enjoy broccoli as much as a cookie – it's all in the attitude.
Real kids will be teaching your child about food. From talking about their favorite foods, to actually eating them, our tiny guides will guide your child on an eating journey.
Dove Review
This is a very educational DVD that your youngsters will enjoy as it teaches them important information regarding food and mealtimes. As they watch other children in this movie enjoy different foods, they get exposure to items that they might be willing to try if they have not already. Children can be picky eaters at a young age and this DVD may help them to want to change their eating habits. It also encourages healthy snacks. The music and children in this DVD will be enjoyed by all who watch it no matter what the age group is.