Gerbert Series
Theatrical Release:
June 15, 1991
DVD Release:
June 15, 1991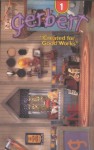 Synopsis
Gerberts Bible Blurberts is a delightful portrayal by Gerbert and some of his friends of a few of gerberts favorite bible stories. Gerbert "play acts" the stories in live action with the narration by the reknowned Jon Rivers, which gives your young on a "childs- eye" understanding of the depiction of the stories which are illistrated in the bible. These storys are formated in short story form of "Blurb" if you will, establishing the series name, "Gerberts Bible Blurberts".
Dove Review
This is a wonderful video series. There are many episodes available and each video is about 45 minutes in length. Other videos in the series include: "The World Around Us", "Wedding Bell Blues", "Loving My Neighbor", "Safe in His Arms", "The Doctor"
Info
Company:
HSH Educational Media Co.
Director:
Andy Holmes and Natalie Freeburg