Santa and Sons and Daughter
Theatrical Release:
November 6, 2005
DVD Release:
November 6, 2005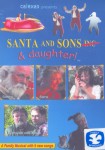 Synopsis
This musical digital film takes Santa and Mrs. Claus into the future and introduces the whole family along with nine original songs. Sons, Nicholas and younger brother, Klaus, plus spunky daughter Sandy, rise to the challenge of being the next generation. Sandy falls in love with Zwerkin, the harried inventor of the Teleportation Device that gets Santa into houses without chimneys. Zwerkin, a widowed father of Bethany and Silvin, had to borrow against the house to pay for his wife's funeral. Unfortunately, he borrowed from his boss, Menacin Snavely. Snavely relishes the moment, puts on his black Santa suit and sings about "deer kabobs and antler soup." Santa's main helper Jan becomes buddies with Silvin and helps save the day.
Dove Review
Christmas is always a great time of year for movies, especially when they are musicals. This is an endearing story about Santa's family and how they help a father and his children from being taken advantage of by a mean man. The fantastic music is sung by some very talented singers. Get the popcorn, the blanket and sit with the family to watch it together.