The Second Chance
Theatrical Release:
February 17, 2006
DVD Release:
July 18, 2006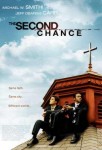 Synopsis
Ethan Jenkins (Michael W. Smith) and Jake Sanders (introducing Jeff Obafemi Carr) are both passionate pastors who worship the same God from the same book–but that's where the similarity ends. White and well-to-do Ethan is comfortable in his music ministry at the media-savvy suburban mega-church, The Rock; Jake is a street smart African-American who ministers to the gang members, teen mothers, and drug addicts of the urban Second Chance. When they are suddenly thrown together in a tough neighborhood and forced to work side by side, Ethan discovers there is no boundary between the streets and the sanctuary. But can the faith these two men share overcome the prejudices that divide them, to give themselves and a struggling urban church a second chance?
Dove Review
This is a realistic and gritty film which will hit close to home for many Christians. Pastor Ethan, comfortable in his ministry and pay, is sent by the board of his mega-church to get involved in the urban Second Chance church, where Pastor Jake, an African-American pastor, ministers to drug addicts, gang members, and teen mothers. Pastor Ethan soon realizes that he has his priorities mixed up and even his father, who originally founded the Second Chance, realizes he has gotten off the path he needs to be on.
This film will inevitably cause the viewer to examine his/her motives, and that is the ultimate compliment to be paid to this movie. The acting and production values are very good in this film. There is some crude language, spoken even by Pastor Jake, but his wife reminds him to keep working on what comes out of his mouth. This film will make the viewer think, and there are not a lot of movies which do that.
Info
Company:
Sony Pictures Home Entertainment
Industry Rating:
Not Rated
Reviewer:
Edwin L. Carpenter