Shopgirl
Theatrical Release:
October 21, 2005
DVD Release:
April 25, 2006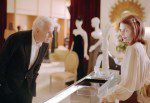 Synopsis
Limited Release – Check your local papers for theaters and show-times.
The story follows Mirabelle, a disenchanted salesgirl and aspiring artist who sells gloves and accessories at a department store. She has two men in her life: wealthy divorcée Ray Porter (Steve Martin) and struggling musician Jeremy. Mirabelle falls in love with the glamorous Ray, and her life takes a magical turn, but eventually she realizes that she must empower herself and make a choice between them.
Dove Review
Many girls dream of a Prince riding in on his silver steed to save her. Mirabelle sees Ray as that Prince. As happens from time to time in real life, sometimes we pick the wrong person to be the Prince. In this movie it is no different. The girl falls for the wrong guy and is left behind with the hurt. But the other guy who was the toad of this fairy tale returns with a new make-over and now becomes the Prince. And it is always amazing that after the girl is happy in a different direction the original prince comes in at the last moment to tell her that he did love her after all.
The movies "Pretty Woman" and "Shopgirl" have much in common; a rich man paying for a lot of things so he can sleep with the girl. The only difference is that the rich guy doesn't want or get the girl in the end.
Info
Company:
Touchstone Pictures