Silver Bells (2005)
Theatrical Release:
November 27, 2005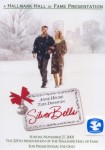 Synopsis
"Silver Bells" is set in New York City, where the Byrne family comes every December from its Christmas tree farm in Nova Scotia. Widower Christy Byrne (Tate Donovan) and his two children, Danny (Michael Mitchell) and Bridget (Courtney Jines) sell their trees on a street corner in Chelsea. On that same street lives Catherine O"Meara (Anne Heche), a lonely soul who lost her beloved husband three years earlier.
Danny has dreams of becoming a professional photographer (his late mother gave him her prize Leica camera before she died). One December, Christy is shocked when 16-year-old Danny announces that he wants to stay in New York to pursue his interest in photography. Catherine, who manages a museum of photography, secretly takes Danny under her wing.
Dove Review
The Byrne family bring you into their lives in this lovely story for the Christmas holiday. You travel with them to New York and experience some of the beauty the city holds. This is another fantastic, heartwarming Hallmark movie for the holiday season. I have always loved Hallmark movies. The story has that down-to-earth family and wholesome feeling. We do realize that the son leaving home in rebellion is wrong. However, due to the fact that he and his father reconcile in the end, and that he does suffer the consequences of his behavior by his near-death experience, we believe the film has redeeming values. So gather the family around the TV with popcorn and blankets to watch this movie for the holiday season. Oh, and don't forget the box of tissues!
Info
Company:
Hallmark Hall of Fame
Writer:
Luanne Rice - novelist, Jim McGrath - Teleplay