Smile
Theatrical Release:
April 8, 2005
DVD Release:
September 6, 2005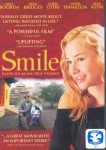 Synopsis
The circumstances of rural China confine Lin to a world of quiet hardship, longing to understand a life without fear or shame. Katie's pampered life in Malibu challenges her to seek something more. An adventure brings their worlds together, and their lives are forever changed. Based on real events, "Smile" is an uplifting story, powerfully told and beautifully acted, that will inspire your soul and warm your heart.
Dove Review
"Smile" is a fascinating story about two young girls that happen to be born on the same day and live totally different lives because of their situations. Lin from China and Kadie from Malibu bring you into each of their worlds and how they become one story. Both stories show some in-depth thoughts about teenagers, family life, and the things that happen in their lives that will change the future. Heartwarming is the outcome of this movie. There are many issues that are dealt with such as teen sex, how others look at you when you are different, and how sometimes commitment is a challenge. Because of some of the subjects discussed I feel that this movie is appropriately rated as PG-13. Dove approves "Smile" for ages 12 and above.
Content Description
Sex:
Girl kisses boy; mother and daughter talk about sex and birth control; boy and girl making out in car, but they stop.