School of Life
Theatrical Release:
January 3, 2006
DVD Release:
January 3, 2006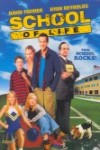 Synopsis
Mr. D is a charismatic and hip teacher whose lessons extend far beyond the classroom. A heartwarming tale of learning to appreciate every moment we're given. "School of Life" is a funny and touching story about life in school, but more importantly it is about the human spirit.
Dove Review
In most of our lives there have been teachers or a teacher that we remember fondly. This happens to be a story about that kind of teacher. And not just one teacher but actually three. These three are Stormin' Norman, who was "The Teacher of the Year" for 43 years. Next, his son Matt, a science teacher in the same school, and finally Mr. D., the new history teacher.
As we grow even at a young age we should be aware that there is never enough time, and we should make the best of it no matter the outcome. The story is fantastic and this movie is so enjoyable, but the language is a bit much. I don't think they allow those words to be used in school, even by teachers.