Pride and Prejudice (2005)
Theatrical Release:
November 22, 2005
DVD Release:
February 28, 2006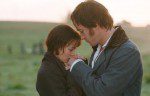 Synopsis
Based upon Jane Austen's beloved novel, "Pride and Prejudice" tells the tale of the five Bennet sisters, including the clever, willful Elizabeth (Keira Knightley), the handsome, elegant Jane (Rosamund Pike), and the impetuous, rebellious Lydia (Jena Malone). The Bennet family may lose their home if their girls don't marry well, and bright prospects appear when a wealthy bachelor and his friend, Mr. Darcy (Matthew Macfadyen), move into the nearby mansion. Elizabeth immediately clashes with Mr. Darcy, finding him haughty and of suspect moral character in Austen's classic battle of the sexes, and of the classes.
Dove Review
The rolling green hills and period costumes make this film beautiful to the eyes; the unoffensive dialog is easy on the ears; but it's the classic story of family and love that makes it a feast for the soul. Set in the 1700s, we see a time where people were courteous and refined, sometimes to a fault. The prim and proper society with its rules and expectations led to disparity among the classes. From the beginning of the film we see this through the eyes of the Bennet family. Mr. and Mrs. Bennet are of modest heritage with a few family eccentricities. Mrs. Bennet is consumed with the task of marrying their five daughters lest they be left penniless and alone. Most of the story is about the two oldest daughters and their circuitous journey to love and happiness.
The modesty and polite nature of the characters was almost humorous. I lost track of the number of bows performed before and after every encounter. Many characters' first names were never spoken as most addressed each other as Mister, Miss or Missus.
Although this film is enjoyable and Dove approved, most young children would not enjoy the slower pace, involved storyline and thick British accents.