Just Friends
Theatrical Release:
November 23, 2005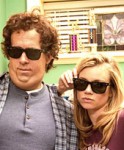 Synopsis
A man comes face-to-face with old high school crush — a woman whose rejection of him turned him into a ferocious womanizer.
Dove Review
"Just Friends" had the potential to be an incredibly fun flick; unfortunately, because of the unnecessary language and sexual innuendo, it went far beyond acceptable limits for the Dove seal. There were moments we were laughing so hard it was difficult to gain composure, and not surprisingly, the funniest parts of the film were family-friendly. It's too bad they had to ruin it by taking the slapstick one step too far, adding the vulgar language and creating sexual tension where it needn't be. For a fun alternative, check out the edited version of "How to Lose a Guy in Ten Days."
Content Description
Violence:
Slapstick ~ hitting, kicking, slapping, wrestling ~ between brothers, aggressive hockey game (over-the-top body checking) hockey puck hits man in face and knocks out his teeth, mouth shown, man tasered, woman tasered, woman falls off balcony at mall, man punches man, women punches man
Sex:
References to masturbation, woman lays seductively on bed, one man-to-man kiss, man and woman kissing. Two women kiss in the background of a scene. Reference made to bisexuality.
Violence:
Slapstick ~ hitting, kicking, slapping, wrestling ~ between brothers, aggressive hockey game (over-the-top body checking) hockey puck hits man in face and knocks out his teeth, mouth shown, man tasered, woman tasered, woman falls off balcony at mall, man punches man, women punches man