The Old Red Barn Club: A Day on the Farm
Theatrical Release:
December 1, 2005
DVD Release:
December 1, 2005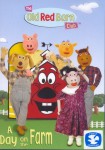 Synopsis
In this release the characters help children experience the joy and wonder of life on a farm, discovering all the secrets and treasures that may be found. "The Old Red Barn Club" is an educational DVD that takes young kids on learning adventures to exciting destinations full of wonder and discovery. This provides kids the opportunity to see and experience aspects of our world they might not otherwise have the opportunity to see or experience.
"The Old Red Barn Club" places a high value on learning about and appreciating the world in which we live. The series addresses issues such as the environment, animal care and appreciations, etiquette and manners, responsibility and accountability, health and safety, self-esteem and love; all within the context of real-world situations and locations.
"The Old Red Barn Club" is designed to be an interactive learning experience. Children are encouraged to actively participate in the learning segments and are rewarded with positive responses. The program is designed to encourage inquisitiveness and discovery within each challenge through interactive leaning. The target age for this DVD is 1 through 5.
Dove Review
"The Old Red Barn Club" is a great video for young children that will teach them many wonderful new things. This DVD has really good music for kids and will make them want to get up and dance around as well. Another wonderful thing about "The Old Red Barn Club" is how it shows children what they have to do when they have an animal and the added responsibility that goes along with raising another creature. "The Old Red Barn Club" has puppets that will help your children explore the amazing things you will find on a farm. Children will have fun learning and dancing while watching the movie.
Info
Company:
iMedia Innovations Inc