The Miraculous Mission
Theatrical Release:
December 13, 2005
DVD Release:
December 13, 2005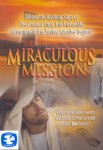 Synopsis
There is no other story like it on earth. Twelve ordinary men…one extraordinary journey that changed the course of human history forever! This exciting docudrama presents the story of the Twelve Apostles as you've never seen it. Using 21st century technology, faith and science collide in an investigation so compelling it dares to offer answers to questions that have lingered for thousands of years.
Dove Review
This is how to do a documentary! Include geologists, archaeologists, scientists, biblical theologians, and a focus in sticking to the subject, and you have "The Miraculous Mission." Based on "Twelve Ordinary Men," written by Dr. John MacArthur, this well-produced DVD will reveal more to you about the 12 disciples than you might have thought possible. Kudos to Grizzly Adams Family Entertainment for producing this top-notch documentary. The visuals and recreations of biblical moments are excellent.
If you want to know more about Matthias, the disciple who replaced Judas Iscariot, and more about what happened to the disciples following Jesus' death and ascension, including who lived the longest, this will be a treat for you. As the director focuses on historical accounts such as the works of historian Josephus, an historical stamp of authenticity is indelibly imprinted on this documentary. This is suitable for every member of the family with nothing offensive whatsoever. I highly recommend it.
Info
Company:
Grizzly Adams Prod., Inc.
Writer:
Joseph Meier and Sharon Dymmel
Producer:
Charles E. Sellier and David W. Balsiger
Starring:
Hosted by explorer Michael Flynn
Reviewer:
Edwin L. Carpenter