Twelve Ordinary Men
Theatrical Release:
December 13, 2005
DVD Release:
December 13, 2005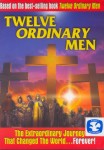 Synopsis
In a world of uncertainty and fear, "Twelve Ordinary Men" is a story that will inspire and move you. Twelve men—touched by God in a way no one else has previously experienced. In their quest to spread the Gospel message, they witness unimaginable miracles and endure unspeakable cruelty. Yet despite overwhelming forces aligned against them, they will change the course of history in a single lifetime.
Dove Review
Although this DVD does include some material culled from "Miraculous Mission," it also presents new material and if one hasn't seen the former, the latter is a splendid documentary to watch. There are interviews with scholars and experts in the sciences, and this particular documentary concentrates more on re-enactments than its companion, "Miraculous Mission." This documentary teaches traditional and historical background on the twelve disciples of Christ, and is family friendly all the way. I strongly endorse it.
Info
Company:
Grizzly Adams Prod., Inc.
Producer:
Charles E. Sellier and David W. Balsiger
Reviewer:
Edwin L. Carpenter