The Family Stone
Theatrical Release:
December 16, 2005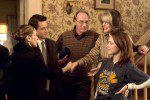 Synopsis
Christmastime has come for the Stones, including Kelly (Craig T. Nelson) and Sybil (Diane Keaton), and their children, rebellious Amy (Rachael McAdams), stoner Ben (Luke Wilson), deaf and gay Thad (Tyrone Giordano), pregnant Susannah (Elizabeth Reaser), and businessman Everett (Dermot Mulroney), who is bringing his uptight girlfriend Meredith (Sarah Jessica Parker) home with him for the holidays. The Stones immediately dislike Meredith, finding their tight family ways conflict with her frigidness and unease with their lifestyle. As the holidays wear on, and Meredith calls in her sister (Claire Danes) for reinforcement, the drama escalates in the household, altering the family dynamic in ways nobody was expecting in what was to be a nice, quiet Christmas.
Dove Review
"The Family Stone" is a tale about a dysfunctional family who all get together during Christmas and during the course of events find out about an upcoming tragedy. While I found the film slow at times, it did pick up toward the end. Unfortunately, the movie was rather transparent at times.
Rife with politically correct dialog and confrontations, there is little doubt in how each situation will turn out. In the end, almost all is well but the mark is still missed. For a more touching and uplifting film, go out and rent "Christmas with the Kranks."
Content Description
Sex:
Homosexual male couple adopt baby, Crude reference by mother about daughter loosing her virginity.
Drugs:
Pot smoked by father and son. Request to find pot made by woman. Man and woman get drunk in bar.
Info
Company:
20th Century Fox
Director:
Thomas Bezucha Thomas Bezucha Thomas Bezucha