Fun With Dick And Jane (2005)
Theatrical Release:
December 21, 2005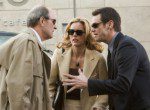 Synopsis
Dick and Jane are in love and living the American dream–until one day it becomes an American nightmare. When the company Dick works for becomes involved in an Enron-like scandal and he takes the rap, Dick and Jane are forced with the prospect of losing everything. After playing by the rules and getting burned, Dick has an idea: If stealing was good enough for his boss, then it's good enough for him….
Dove Review
Téa Leoni and Jim Carrey have some really funny scenes together and I think their on screen chemistry is wonderful. Their first night as "criminals" is pretty funny. She doesn't think he is going to really rob anybody and makes fun of him as he messes up one attempt after another.
I didn't see the original version with Jane Fonda and George Segal but I would be willing to bet since it was made in 1977 and rated-PG, that it didn't contain all of the objectionable content that its 2005 remake does. The foul language and unresolved illegal activity place "Fun with Dick and Jane" outside of Dove's family-approved standards.
Info
Company:
Sony Pictures Home Entertainment
Writer:
Judd Apatow and Nicholas Stoller
Producer:
Jane Bartelme and Peter Bart