Wolf Creek
Theatrical Release:
December 25, 2005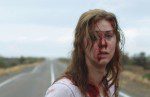 Synopsis
A trio of 20-something backpackers takes a trip through the Australian Outback to explore Wolf Creek National Park and its infamous crater. When they return, their car won't start and they're forced to bum a ride from a stranger, who seems intent on keeping the coeds there, forever.
Dove Review
As I watched "Wolf Creek" the day after Christmas, I could not help but think that there could not possibly be a movie less cheery and a more violent film, with graphic and gratuitous blood, for the holiday season. Based on some true facts, the story of a young man and two ladies who travel to Wolf Creek to view a meteorite pit is frightening, realistic and graphic. The landscapes in this movie, filmed in Australia, are most impressive. However, the cinematogrpahy was terrible, as many scenes were grainy and even seemed to be slightly out of focus. But the real downer is the stark reality of a madman who picks up the three travelers when their car won't start. He goes on to tie the two women up, beats one of them and is sexually aggresive with her, and actually crucifies the young man to a wooden beam.
Without giving the exact ending away, the end is less than happy although not without a slight beam of hope. But as this psychotic man graphically stabs one woman and pursues another who has gotten away, one realizes that this is not the type of movie worth seeing during, before, or after the holidays. One young lady complained to her friend as she was leaving that the movie was a letdown. I wholeheartedly agree. The profanities fly in this movie. This film is as far from family friendly as the stars are from the earth.
Info
Producer:
David Lightfoot and Greg McLean
Reviewer:
Edwin L. Carpenter