Glory Road
Theatrical Release:
January 13, 2006
DVD Release:
June 6, 2006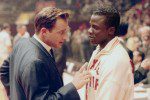 Synopsis
"Glory Road" tells the inspiring true story of the underdog Texas Western basketball team, with history's first all African American starting lineup of players, who took the country by storm, surprisingly winning the 1966 NCAA tournament title. Josh Lucas stars as Hall of Famer Don Haskins, the passionately dedicated college basketball coach that changed the history of basketball with his team's victory in this time of innocence.
Dove Review
This film is sure to receive critical praise. It has solid acting, good direction, and best of all it is based on a true story. Coach Don Haskins takes the first all-black starting line-up to the 1966 NCAA national championship game. The West Texas Miners beat the Kentucky Wildcats. It is family friendly but may be a bit intense for very young viewers as some men beat up a black player in the bathroom of a restaurant, where the team has stopped to eat. The "N-word" is written in blood on a motel wall when the players return to find the room ransacked. Although recommended for ages 12 and up, mainly due to the couple of segments of violence, parents should know that children even eight and up who are mature and love sports, should be OK with the film. Overall the film conveys the hard work, determination and grit which went into that memorable basketball season, and it is the story of a great coach who would not let his team quit despite racial hatred and the ailing heart of one key player. Interestingly enough, the coach from the Kentucky Wildcats appears to not think much of the "black" team, but he went on to recruit the first black player for the Wildcats.
If a good story must have characters who change, this story has it. Several of the players we learn at the end made El Paso their home even though they moved from such places as the Bronx and Detroit. The language is mild with a few racial slurs included, but the redeeming values of this film, including the Miners overcoming team tensions, make it a good one for the family. The very young might find it to be a bit slow but this film shines for most in the family.
Info
Company:
Buena Vista Home Video
Reviewer:
Edwin L. Carpenter