Last Holiday
Theatrical Release:
January 13, 2006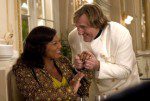 Synopsis
Georgia Byrd (Queen Latifah) lives a small life tucked inside big dreams. A shy cookware salesperson for a New Orleans retail outlet, she handles knives and skillets with the flair of a master chef. But when Georgia learns her days are numbered, she throws caution to the wind and embarks on a dream holiday vacation to a grand resort in Europe. There, thinking she has nothing to lose, Georgia undergoes a metamorphosis–and her transformation affects everyone around her. Georgia's newly uninhibited personality shakes up staff and guests alike, including a venerate chef as well as a retail magnate who becomes convinced she's a rival intent on sabotaging his business plans. From snowy slopes to spectacular spas, delectable dinners to midnight balls, Georgia is going to live a lifetime of fun in just a few weeks.
Dove Review
"Last Holiday" is one of the most uplifting and kind spirited films that I have seen this year. Georgia Byrd (Queen Latifah) is a God fearing woman who is kind and considerate and has always lived her life quietly. When she finds out her days are numbered she decides to live it up while she still can. In the process of enriching her life, she manages to attract many new friends and enriches their lives by being honest and forthright.
"Last Holiday" is funny and Queen Latifah does a marvelous job of connecting with the audience. For family audiences there are a few snags that the film could have done without. The first is the crude and obscene language. While not near what is in some PG-13 films, it is more noticeable in this film because of all the other positive elements and messages. The other is the adulterous affair that Matthew Kragen (Timothy Hutton) and Ms. Burns (Alicia Witt) are having. Ms Burns admits to Georgia that she is having sex with Matthew and Georgia responds by telling Ms. Burns that he is married and she shouldn't be having a sexual relationship with a married man. She advises Ms. Burns quit seeing Matthew, quit working for him and to go back to school. So, this affair is neither glorified nor condoned, but is something that parents should be aware of before allowing their kids to view the film.
In another scene Georgia and Kragen are skiing and he is chasing her and she causes him to fall. Right when he falls I believe I heard him say "d*mn you." Dove normally doesn't award the Dove Seal to films that carry a curse, but Kragen says this obscenity under his breathe and I'm not totally sure it was said. Dove has researched a few other content sites and there is no mention of this. I just thought parents might want to be aware of this segment of the film.
With only a few bumps along the way, "Last Holiday" is a film that families with older children can enjoy and from it glean some good life lessons.
Info
Writer:
Jeffrey Price and Peter S. Seaman