Pocket Snails: Aquaphonic Adventure
Theatrical Release:
January 11, 2006
DVD Release:
January 11, 2006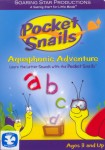 Synopsis
Join the Pocket Snails as they help their friend Jake on a magical "Aquaphonic Adventure," where they work as a team to learn the sounds of letters. This delightful developmental video will enchant and educate you child with its distinctive and engaging mix of vibrant color, original upbeat music, adorable characters and a fun and humorous storyline.
Let the Pocket Snails encourage your child's imagination and their enthusiasm for learning! This original and innovative video has been carefully designed to enhance and elevate your child's educational experience. Using a creative range of learning techniques – clever use of repetition; color; fun; humor; upbeat, child-friendly music and abundant use of audio/visual synchronization – the Pocket Snails will entertain and educate your child.
Dove Review
The "Pocket Snails" video series is an intriguing educational tool to help your children learn. This colorful musical adventure teaches phonics along with the recognition of letters. I have enjoyed reviewing these videos and recommend them for your children and grandchildren to help them in their learning process. This video along with any of the Pocket Snails videos are fantastic learning tools for children.