Magnificent Desolation: Walking on the Moon 3D
Theatrical Release:
September 23, 2005
DVD Release:
November 6, 2007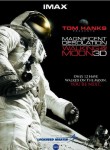 Synopsis
Only 12 people have walked on the moon. You're next!
Exploring the moon was humankind's most incredible journey. Now through the magic of IMAX® 3D, you can take that giant leap for yourself. Presented and narrated by Tom Hanks, "Magnificent Desolation: Walking on the Moon 3D" will transport you to the lunar surface to walk alongside the 12 extraordinary astronauts who have been there to experience what they saw, heard, felt, thought and did.
"Magnificent Desolation: Walking on the Moon 3D" is directed by Mark Cowen, produced by Tom Hanks and Gary Goetzman, and executive produced by Mark Herzog and Hugh Murray. The film is sponsored by Lockheed Martin Corporation and filmed with the cooperation of the National Aeronautics and Space Administration.
To read more about the moonwalks, as recounted by the astronauts, click here for the Apollo Lunar Surface Journals by Dr. Eric Jones.
Dove Review
I am always pleased when I get the chance to review IMAX films, especially when they are in 3D. In "Magnificent Desolation," we get the opportunity to sense what it must have been like for those early lunar explorers. In 40 minutes, we are whisked away on a journey to the moon that is only slightly less educational than it is inspiring. This is not as much a fault of the director as it is the limited time he is given to share the journey. Remember, the definitive docu-drama covering the Apollo missions, "From the Earth to the Moon," was given the luxury of telling its story in twelve 60 minute episodes. Still, the 3D experience gives you a real feel for being in the tiny space capsule as well as experiencing the immense vistas of the moon's surface.
Info
Industry Rating:
Not Rated