Worth it All: Memoirs of a Missionary
Theatrical Release:
January 19, 2006
DVD Release:
January 19, 2006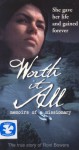 Synopsis
On April 20, 2001, media around the globe broke with the story of a young missionary family shot out of the skies over Peru as they were tragically mistaken for drug couriers. The incident left their Cessna float-plane riddled with 79 bullet holes – and Roni Bowers and her infant daughter, Charity, dead.
How ABWE missionaries Kevin Donaldson, Jim Bowers and his son Cory survived the dramatic crash into the Amazon captivated the world. The legacy of Roni Bowers will capture your heart. In life, she reached hundreds for Christ. Through the unusual circumstances of her death, God is using Roni to reach millions more – and to draw new workers to the field.
Dove Review
I remember the story as it came on the news and the sadness I felt for this family. Even though this is a very serious story of Roni Bowers' life, it shows the happiness that her mission work brought her from a very early age. This is a fantastic short story of an incredible missionary.
Info
Company:
Axiom Entertainment